THANK YOU GIFTS & HAMPERS
What better way to say thank you than with a delicious thank you hamper from EloquentGift.com. Find the perfect gift to thank a loved one for being there, an employee for their great work or after receiving a thoughtful gift yourself. Show your gratitude with a hamper that is packed with tasty treats and don't forget to add your own personalised gift message. Order a thank you hamper online today with free Lagos delivery.
Actions speak louder than words, so what better way to convey your thoughts than to send one of our specially selected thank you gift basket or hamper to say thanks. Nothing beats the feeling of giving and when you know your thank you hamper will be well received and appreciated it makes that positive feeling worth every kobo. EloquentGift.com supplies all categories of hampers in Nigeria including valentines Day Gifts & Hampers, Birthday Gifts & Hampers etc.
Thank You Hamper Packages for HER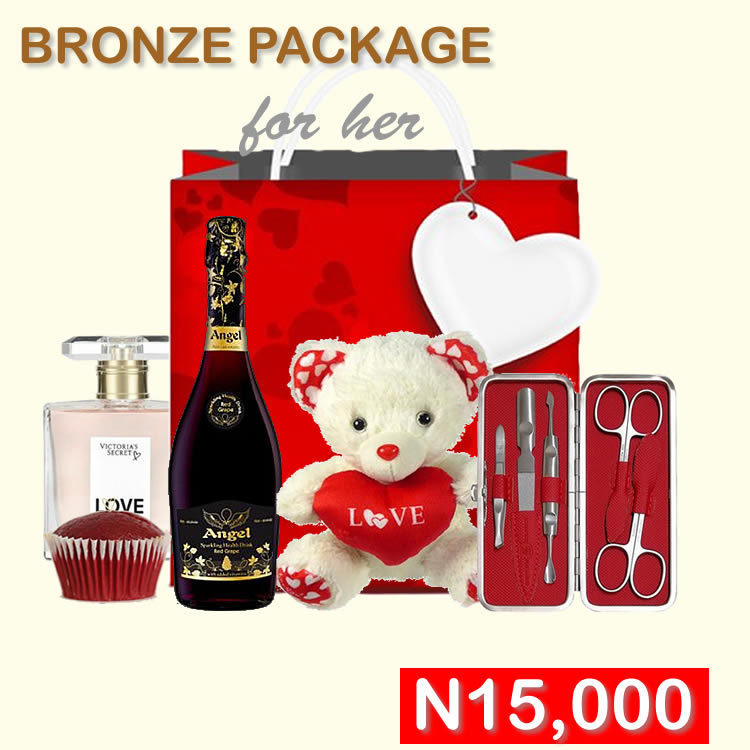 See Details

1 Bottle Fruit Wine (Angel/ Boll)
6 pcs Naked Cupcakes
8 inches Teddy Bear
Chocolate(Snickers)
Valentine Card
Mini Manicure Kit
Perfume (Love)
1 stringed flower. To be delivered in well wrapped gift bag

ADD ON

These items are not currently in the package above but can be added and paid for separately.

Health, Beauty & Fashion products from Longrich & Forever Living Products(FLP): Toothpaste (2k), Mouth Freshener (1.5k), 2 in 1 Shampoo (2.5k), Slimming Tea (3k), Heat Powder (3k), Bamboo Charcoal Soap (2.5k), Hand Cream (2k)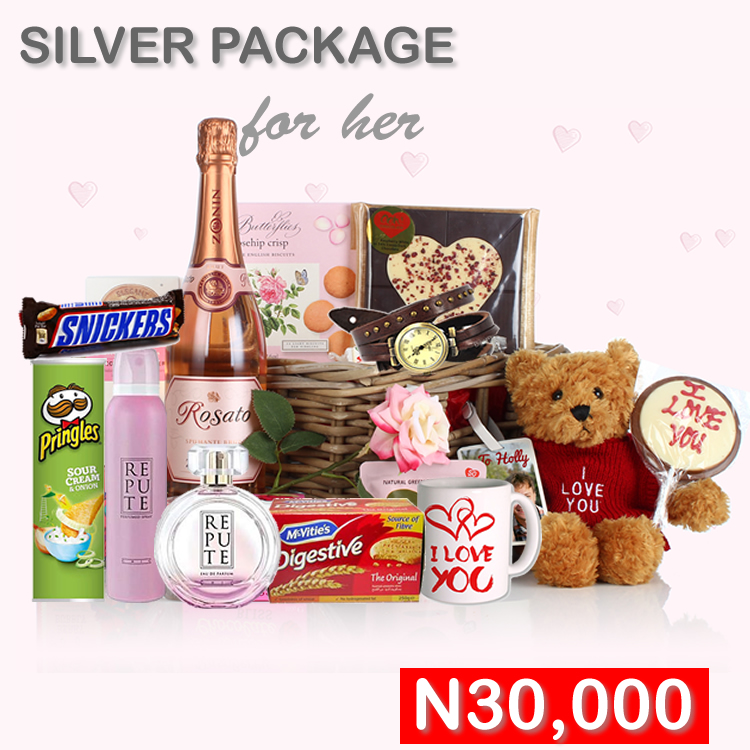 See Details

1 Bottle of Fruit Wine (Angel/Boll)
6 pcs Naked Cupcakes
Chocolate Banana Cake Bread
Digestive Biscuit(McVities)
Pringles
Perfume + Deodorant Gift set
Manicure Kit
12 inches Teddy Bear
Chocolates (Snickers)
Elegant Bracelet Wristwatch For Women
Valentine themed Mug
Packaging: Basket with love designed wrapper

ADD ON

These items are not currently in the package above but can be added and paid for separately.

Health, Beauty & Fashion products from Longrich & Forever Living Products(FLP): Toothpaste (2k), Mouth Freshener (1.5k), 2 in 1 Shampoo (2.5k), Slimming Tea (3k), Heat Powder (3k), Bamboo Charcoal Soap (2.5k), Hand Cream (2k), Longrich Healthy Wine (9k)

Others: Movie Ticket for 2 (5k),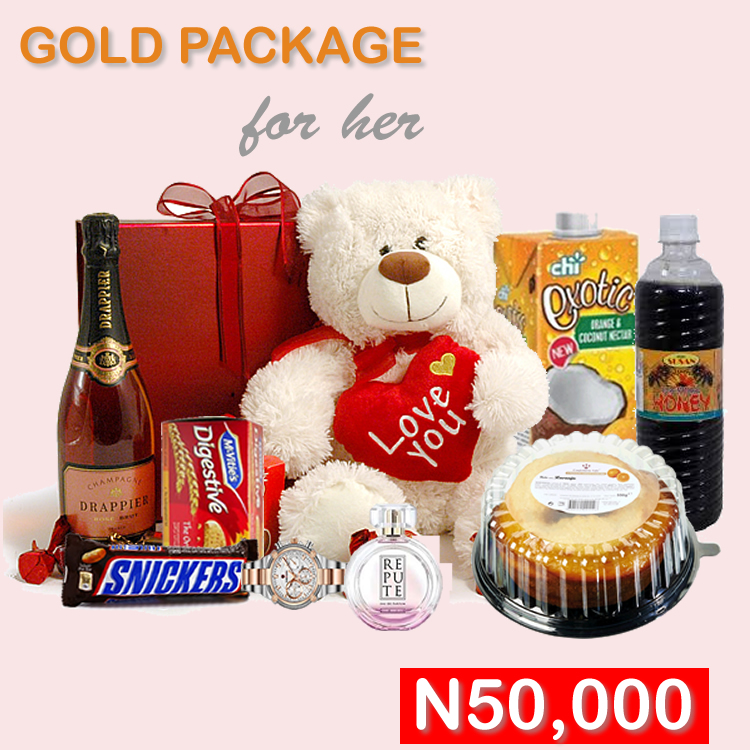 See Details

1 Bottle of Fruit Wine (Capel/ Eden/ Angel)
Chivita Juice
1 Bottle of Natural Honey
Pringles
6 inches Red Naked Velvet Cake
Desmond Shortbread
Pack of Sweet
Hauwel Biscuit
Perfume + Deodorant Gift set
Manicure Kit
15 inches Teddy Bear
Chocolates (Snickers)
Elegant Bracelet Wristwatch For Women
Rechargeable Hand Fan
Valentine themed Mug
1 Single Stringed Rose
Valentine Card
Packaging: Box
FREE DELIVERY

ADD ON

These items are not currently in the package above but can be added and paid for separately.

Health, Beauty & Fashion products from Longrich & Forever Living Products(FLP): Toothpaste (2k), Mouth Freshener (1.5k), 2 in 1 Shampoo (2.5k), Slimming Tea (3k), Heat Powder (3k), Bamboo Charcoal Soap (2.5k), Hand Cream (2k), Longrich Healthy Wine (9k)

Others: Movie Ticket for 2 (5k), 
Thank you Hamper Packages for HIM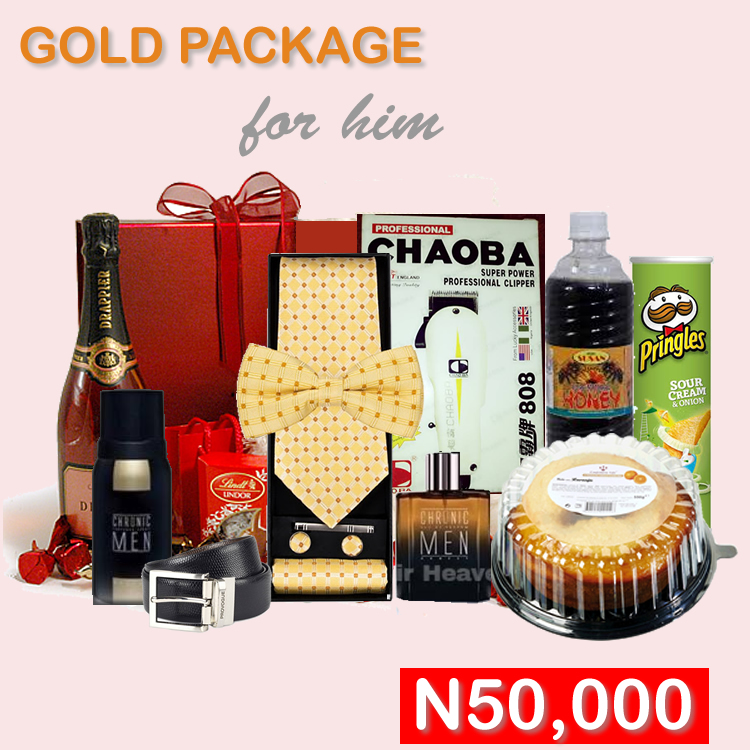 See Details

2 Bottle of Fruit Wine
Longrich Mouth Freshener
1 Bottle of Natural Honey
Pringles
6 inches Red Naked Velvet Cake
Desmond Shortbread
Perfume Gift Set(for Men)
Manicure Kit
Hair Clipper
Shirt Accessories(Tie, Cufflinks & Bold Tie set)
Valentine themed Mug
Belt
Movie Ticket for 2
Valentine Card
Packaging: Box